Firefox 3 Beta 1 is available now. I downloaded the package yesterday morning and started using it right away. While using, I figured out some of the good things and at the same time there are some bad things about this test release. Here is what I feel about Firefox 3 Beta 1.
BTW, you can get beta 1 for Firefox 3 here. I am not going to tell, how to install firefox 🙂
Positives:
1.Nice Default Font:
Well someone may argue that you can configure any font in any version of Firefox, so whats the good thing about this default font in Firefox 3 Beta1. Well, I'll say that configuration is always available but nobody gives a damn to configure the font in browser. I am liking this default font in FF3 Beta1 and everything now seems interesting to read. I have Read more than 40 wiki pages since last two days.
2.New FTP Listing Style:
The FTP listings in Firefox 3 Beta 1 has got new stylesheet. Its not dirty any more. It feels good while browsing ftp now. See the screen-shot below.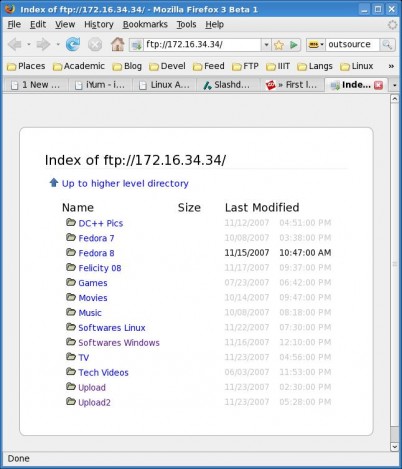 3.Website Identity:
This is new feature, but I couldn't find it useful. When you click on favicon in the location bar, a pop-up kinda thing comes up, which tells about the identity of the site you are visiting. Check out the snapshot below.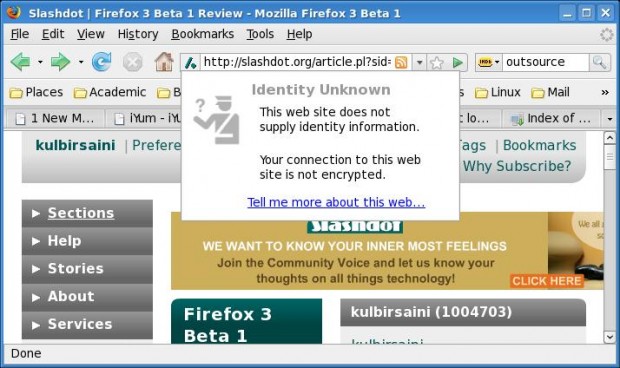 4.Drag n Drop:
You can now hold any thing in Firefox 3 Beta 1 and drag it anywhere you want. Though I could not drop the images to gimp or anywhere else, it looks good. I think its in the development stage right now.
5.Bookmarks:
Bookmarking a website or editing your bookmarks is far easier now. You can edit a bookmarked site while its loading or can bookmark the site by just clicking a button. A new star-shaped button has been added in the location bar before the go button. If a site is not bookmarked, clicking the button will just bookmark it without asking for anything. If you again click on the button, now you can edit or delete the site you just bookmarked.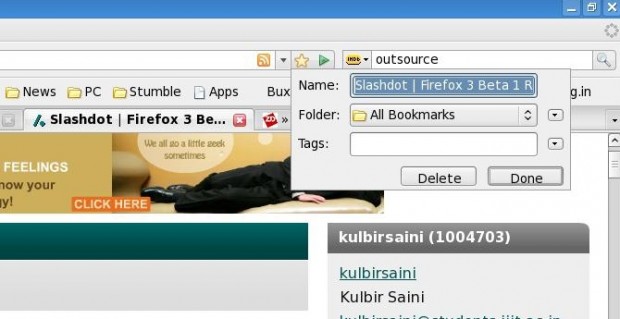 6.Adding Search Engine:
In firefox 3 beta 1, you can add the site you are browsing in you search engine list just like google, imdb, wikipedia, yahoo or whatever. But this is not valid for every website. Every website in this world can't be a search engine 😛 Checkout the snapshot or KDE.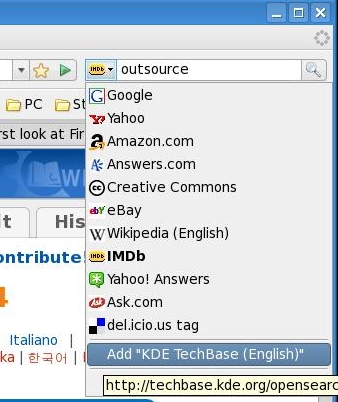 7.Link sorting/searching in location bar:
Firefox 3 beta 1 implements a new searching/sorting mechanism for links in location bar. As you type some letters, those are now searched in the link as well as the title of the page and then the links are sorted and displayed as list. In drop down list, you can also see the sites on your bookmarks.
8.Places Folder:
A new bookmark folder named 'Places' has been added. It has 6 sub-folders which contains links to different site based on a particular criterion. Some of them are 'Recently Starred Pages', 'Recently Visited Starred Pages', 'Most Visited Starred Pages' etc. I was looking for something like this since a long time. Because every time I login into my PC and fire up my firefox, first of all, I visit 8-10 sites (students mail, slashdot, iiit blogroll, yahoo mail, gmail, forum, orkut etc.). Now, I can open all of them in just one click. I click on 'Most Visited Starred Pages' and done.
9.Low Memory:
Well, a review of Firefox 3 Beta 1 on zdnet, say that Firefox 3 beta 1 is consuming low memory than Firefox 2 and IE 7. That review is for Firefox in windows. But in Fedora 7, I didn't experience any reduction in memory usage.
10.Faster:
I don't know how to justify this, but Firefox 3 Beta 1 seems to load pages faster. What I could think was that, when you click go, it loads the page in the background for some-time and then suddenly flushes the page to the screen and it appears that the entire page has been loaded in one go. I may be wrong though.
11.Improved GUI:
The rendering of buttons, input fields, images in the pages have improved a lot and buttons and drop down menus look better now.
Negatives:
1.Extensions:
Life is a bit or I should say a byte difficult with Firefox extensions. Now, I am too much used to use these extensions that I can't live without them. I'll crash if I don't have 'Undo Closed Tab' extension. I keep making stupid mistakes. All the extensions are not yet available for Firefox 3, so its a problem.
2.Multiple Tabs:
Firefox 3 Beta 1 immediately dies if I open more than 20 tabs. I opened my wiki saved session (39 tabs) and after sometime I was searching for Firefox. Where the hell firefox window has gone?
3.Crashes:
I don't know what exactly is the problem, but I think Firefox 3 revolts against Yahoo Mail and GMail. Whenever I open Yahoo Mail or GMail, Firefox 3 Beta 1 crashes. Either there is some problem with the heavily loaded mail pages or it doesn't want me to use GMail or Yahoo.
Well, there may be lot more positives and negatives. These are the things I noticed about Firefox 3 Beta 1 in last two days. As the positives list is ruling the negatives, I am using Firefox 3 Beta 1 full time these days.
PS : @Paresh I think FF3 is better than FF2 in many ways. But you may want to wait for all the extensions to be compatible with FF3.