mbooth commented on one of my last post (How To: GNOME GMail Notifier) informing that he/she uses mail-notification. I was curious to check it out for mail via IMAP and I found it way more useful as compared to Gnome Gmail Notifier. I especially like the option to configure it to check the mails every ten seconds. Thats way cool for anxious people like me 🙂 Keeping in mind the huge advantages of mail-notification, I thought of writing an howto for configuring it 🙂
Install Mail Notification
Installing something can't be simpler. Just use the following command as root
[

root

@

fedora ~

]

$ 

yum install

 mail-notification
Configuring mail-notification is very simple. Its as easy as it can get but there are tricks for special cases like Gmail for  Google Apps hosted websites.
Launch Mail Notification
Mail notification loses a point here. It doesn't show up in any of the menus. You have to launch it from command line. You can launch mail-notification from System -> Preferences -> Mail Notification (Thanks mbooth for correcting). Or use the following command as normal user to launch mail notification
[

saini

@

fedora ~

]

$ mail-notification 

-p
Configure Status Icon Behaviour
On mail notification properties windows, select Status Icon tab and choose the appropriate behaviour.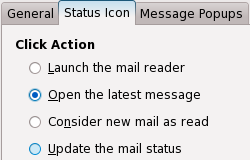 New Message Popup Settings
Now go to Message Popups tab, and select appropriate options. If you don't enable popups, using mail notification doesn't really make sense (though none can prevent you from doing so 🙂 ). Keeping popus stacked is good because it shows you all messages in case you get more than one new mails in an interval. Also, you can configure the expiration time for the popups.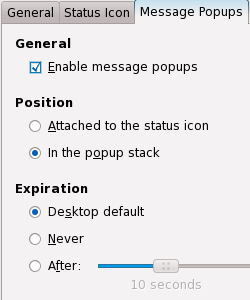 Add New Mailbox
Now select General tab and click of Add button. Mail-notification supports checking new mails from Evolution, Gmail, Yahoo! Mail, Windows Live Mail, any IMAP and POP3 Server and moreover your system mailbox 🙂 Select Gmail for mailbox type. Enter username and password for Gmail account.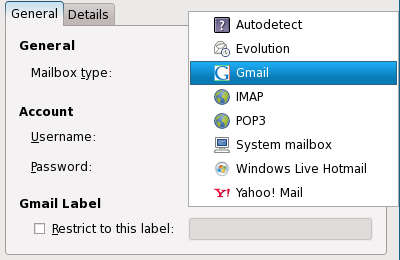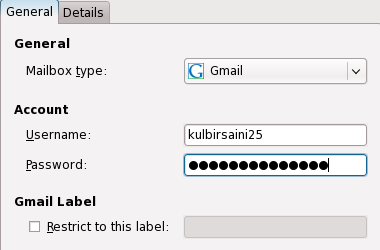 Now move over to Details tab and set delay between checking mails. I keep it 10 seconds 🙂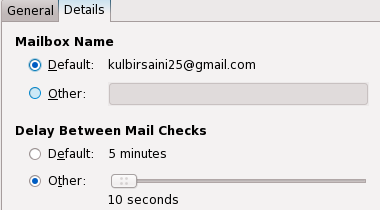 Add a Google Apps Hosted Email Account
This is totally optional 🙂 Now we'll add a Google Apps hosted account. This is a bit tricky. For mailbox type, you'll have to select Gmail. For username, you'll have to provide your email address.

Also, the mailbox name has to be modified in this case to make things work. Move over to Details tab and change mailbox name to your email address.

Add a new IMAP mailbox (Gmail)
This is totally optional 🙂 Keep mailbox type as IMAP. IMAP Server has to be imap.gmail.com . Username and password are same as Gmail Account.
Note: For this mailbox to work, you'll have to enable IMAP in settings tab in Gmail.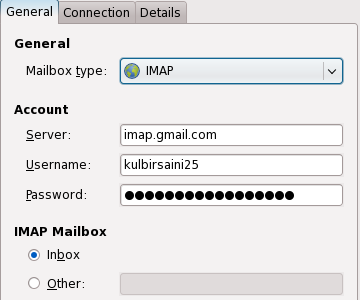 Now move over to Connection tab. Connection for Gmail IMAP has to be SSL enabled. So, select "SSL/TLS on separate port" and make sure the port number is 993.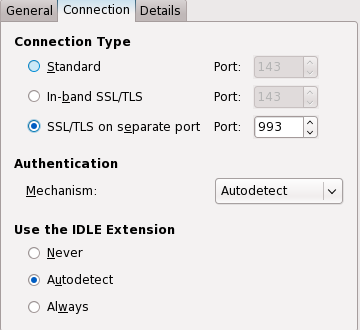 Well thats all you need to do for configuring things for getting new mail notifications lightning fast 🙂 Now sit back and relax until someone sends you a mail 🙂
The only major disadvantage that I found with mail-notification is that it doesn't stay in notification area all the time. It appears only when there is a new mail.
Our self paced training courses MB5-856 and high quality MB6-817 provide you definite guarantee for passing the MB7-839 real exam. If you get through 70-294 and 70-235 exams, you will find other.